Lyme Disease Rife Frequency Chart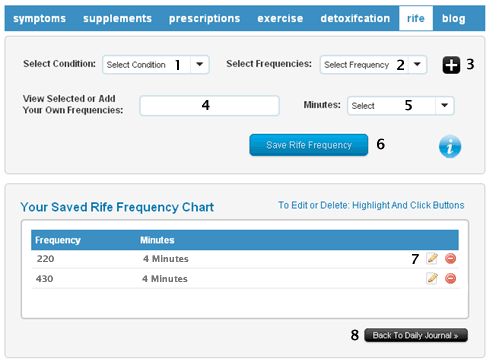 Daily Rife Frequency Journal

Track Lyme Disease Rife Frequency
Lyme Disease Rife Frequency Chart
Use the Rife Frequency Chart to input all frequencies you do throughout the week. When you are finished saving all of your frequencies, click on "Back To Daily Journal" where all of your frequencies will be shown.
Lyme Disease Rife Frequency Journal
Once your have input all of your Rife Frequencies in your chart, go to your Daily Journal Page and simply check off each Rife Frequency you finish daily. You can change the day by clicking on the calendar day you would like to view.
accutane makes you lose weight Current Date. When you land on your private daily journal, you will see all of your current day journals. To view any other day, simply click on the date you want to view on the calendar .
abilify 0.5 727 Update Chart. Click to update your Rife Frequency chart. You will be taken to a new page where you will see the Rife Frequency Chart shown above. Edit, delete or add new Rife Frequency to your Rife Frequency chart, which will be updated in your daily journal.
http://vtlights.com/?x=aciclovir-400-tabletten-erfahrungen Print Daily Rife Frequency Journal. Simply click on the link and print out your daily Rife Frequency journal.
Select Checkbox. If you have done this Rife Frequency today click in the checkbox. You can come back throughout the day and check the boxes when you have finished this Rife Frequency, or at the end of the day, go through the list and check all boxes that you have finished.
Save Daily Rife Frequency Journal. When you have finished checking all boxes for Lyme Disease Rife Frequencies you have finished, click on "Save Daily Rife Frequency Journal". This will save all the data for that day, so that in the future if you select that day on the calendar you will be able to view what Rife Frequencies you finished.
Make Private or Public. You can choose to make the Lyme Disease Rife Frequency journal private or public. If you select private no one else will be able to view this information. If you select public, all users will be able to view this information on your public profile pages.